I put a few of my ladybird photos in to the ABC TV (Australia) program Catalyst for their Ladybird Survey.
One of them was selected as being one of the Best Photos. Here it is. Click on it to see the larger version.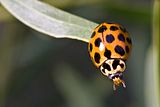 The Best Photos slide show can be seen here:
Click here for Ladybird Best Photos
Your best photos
(20/11/2008)

There are some seriously good nature photographers out there! So overwhelmed are we by the number and quality of your contributions to our National Ladybird Survey, we thought we'd open a gallery displaying the best photos. They reveal the extraordinary beauty of these creatures in great detail and offer a glimpse into the lives of these fascinating beetles. The gallery will be regularly updated with the most exciting submissions until the end of the survey in March 2009.
Go to the google map to see where all the ladybirds are situated in Australia.