Perisher Valley Skiing
Perisher Blue Ski Resort in the Snowy Mountains of Australia is made up of 4 resorts – Perisher Valley, Smiggin Holes, Mount Blue Cow and Guthega. There are 47 lifts and the highest point is at about 2000 meters. Perisher Valley is around 30 kilometers from Jindabyne by road but it is much easier to go via the Skitube from Bullocks Flat. You will probably need a car to get around but quite a few of the workers hitch-hike to work so that is a possibility as well.
Smiggin Holes is mainly a beginners slope with around seven lifts. It is lower down, so the snow melts earlier there as well. A lot of the package deal accommodation is situated here. There is a hotel here and lodges such as Heidi's. To get over the hill to Perisher Valley you can catch the free shuttle bus, which runs all day or hop on the Link T-bar, ski down the Piper lift and up the Telemark t-bar to Front Valley in Perisher. Perisher Valley is the largest area with a number of different sections. Front Valley is where the beginners ski, Centre Valley has a few more runs and Mount Perisher probably has the best skiing with lifts like the Eyre and International being the most fun.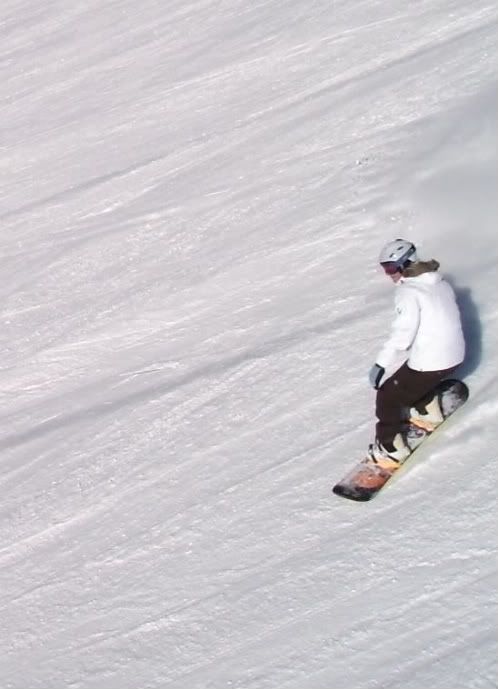 Snowboarder coming down under the Mount Perisher Triple Chair
The Skitube goes all the way to Blue Cow which is mainly a beginner's area. Hop on the chair lift to Mount Blue Cow and give Zalis run a go if you are a speed freak. Getting to Guthega and back again is a bit of an annoying traverse but the trees over at Guthega are supposed to be great when its snowing. But you have to get there early.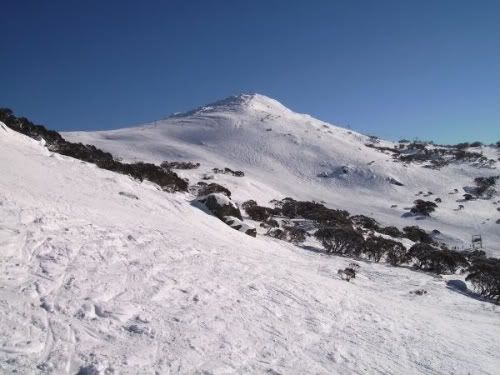 The Olympic run at Perisher Valley
As regards sleeping, there are lots of lodges etc. Make sure that you book way in advance for these. It is probably cheaper to get a package deal with beds and lift tickets all included. There are two camping areas in Jindabyne. The Jindabyne Caravan Park is right in town and the Snowline Caravan Park is about a kilometer out of town on the turnoff to Thredbo. The Snowline has bunk accommodation ar around $45, cabins are $60-150 and camping is $30-45. They also have a communal kitchen and TV room. There is also a great camping spot at Sawpit Creek halfway up the mountain. This has a camp kitchen and fireplace which is very cosy, and also a drying room for the wet skiing gear. You can camp for free at Thredbo Diggings, which is about a kilometer past the Skitube going towards Thredbo. But make sure you take chains as it is slippery to get out of after a dump. There is also a camping spot on the road to Guthega.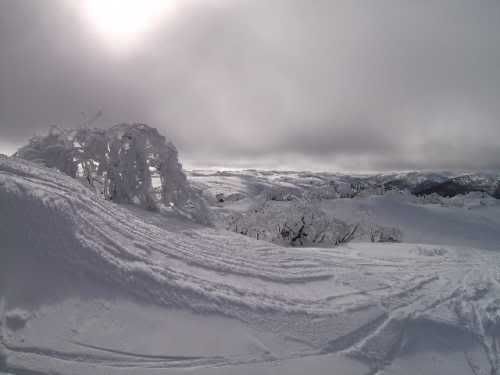 At the top of the Excelerator Lift
Ski lift prices are horrendously expensive in Australia. Day passes cost more than a hundred dollars. The best deal for a ski bum is to get a Perisher Super Pass which costs $1400 in 2010. This season pass includes the Skitube, which is a must and you can also ski at Mount Hotham and Falls Creek for free that season. I recommend a camper van or RV and the Perisher Super Pass for any aspiring ski bums. It is the only affordable way to ski a whole season in Australia.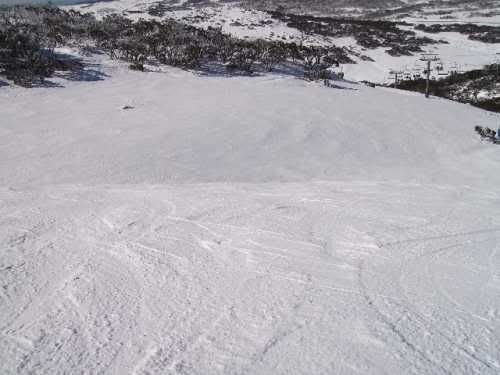 The Interceptor Run, July 2007
Skiing in Australia is very expensive, so be prepared to put your hand in your pockets and shell out the hard cash. There are opportunities for ski bums to ski the whole season, but you have to be smart. The other way to get some skiing time in is to get a job, but these are sometimes difficult to find, especially liftie jobs. If you are from the northern hemisphere and want to ski all year, the possibilities are Australia, New Zealand or South America. For hard-core powder hounds from the north, the only places that I would recommend in the southern hemisphere would be Las Lenas in Argentina or Portillo in Chile.