Grindelwald Skiing
I went to Grindelwald in 1983 and skiied there for a couple of months. When I arrived in December there was no snow, so I stayed in Interlaken down the mountain, waiting for the snow to come. Interlaken has a couple of hostels and is quite a nice little town with a lake nearby. There are 11 hostels in Interlaken, ranging in price from $20-30. I hitch-hiked to Paris just before New Years and spent a great time on the Champs Elysees celebrating the New Year with some fun Argentinian people that I met.
When the snow finally did come in January I moved up the hill to the Youth Hostel. Today there are three hostels that I can find in Hostelworld.com, ranging in price from $35-45. We also stayed at the Naturfreundhaus for a while. If you want more luxurious accommodation, there are heaps of swanky hotels and lodges in Grindelwald. As for accommodation for the whole season, I have no idea, but I am sure you could find a little room somewhere at a reasonable price.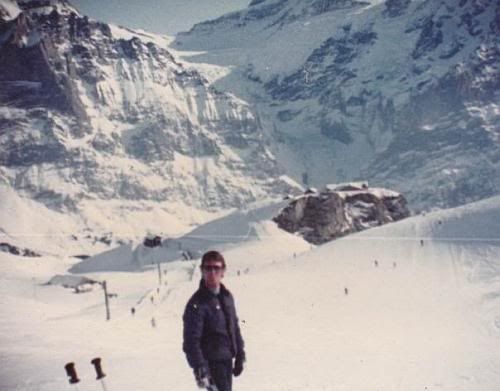 Me skiing under the north face of the Eiger – 1983
As for the skiing, it is wide open. There are kilometers and kilometers of piste on either side of the valley. On one side (First) you have wide slopes and mountains and on the other side, you can ski underneath the north face of the Eiger at the Kleine Scheidegg and ski down into the next valley at Wengen. There are about 30 ski lifts, which comprise cable cars, chair lifts, T-bars, etc. Lift Prices approximately range from about $60 per day to $500 for 14 days. You can get many configurations of ski pass. The Jungfrau Sportpasses covers the whole area, Grindelwald-Wengen, or the Mürren-Schilthorn pass.
To get to Grindelwald, you first need to get to Bern. Berne is a very old city and you could probably spend a day or two wandering around the old city marvelling at the medieval atmosphere. I think they even have the old bear pits, from which the city gets its name. From Berne, travel to Interlaken, and then up the mountain to Grindelwald.